Welcome to the CIS Alumni Board page! 
The CIS Alumni Board was formed in 2016 with the goal of strengthening pride, participation and commitment amongst alumni, this spirit encapsulated in our de facto motto "Connect, Inspire & Serve". 
The mission of the CIS Alumni Board is to give the alumni community a platform to engage and connect with one another. By building pride, participation, and commitment in support of each other and the school, the board strives to assist its members' personal advancement in keeping with the school's mission. 
The current CIS Alumni Board comprises twelve volunteer members drawn from seven graduating classes meeting formally four times a year.  Alumni board members seek to engage alumni through their committees, working groups, and other initiatives.   
If you are interested in working with the CIS Alumni Board or have any questions or feedback, please email cisalumniboard@cis.edu.hk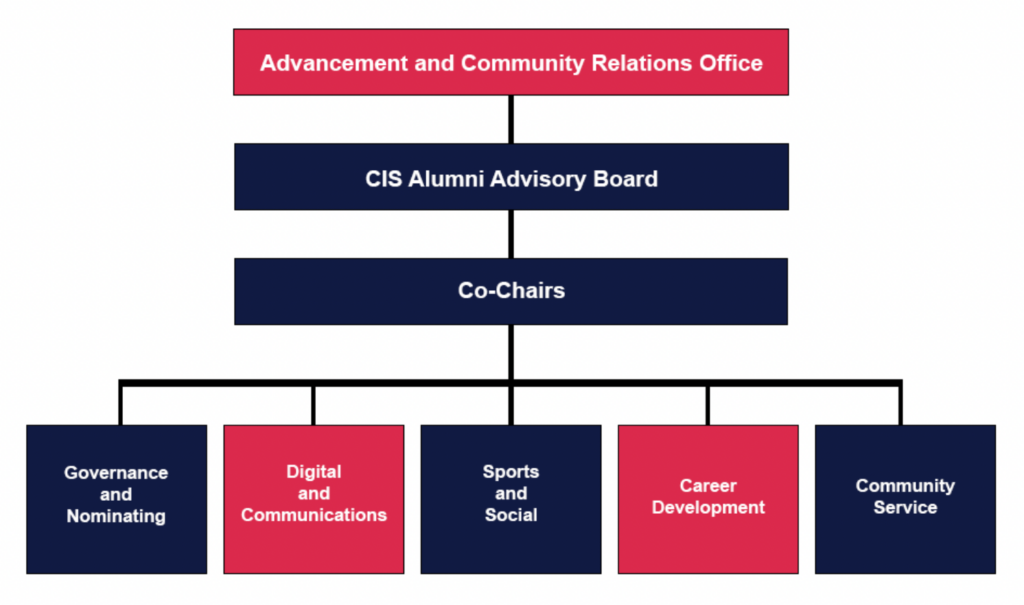 The Alumni Office and the Board welcome contributions from alumni who are keen to get involved in running and contributing to alumni affairs as Alumni Board Associates ("ABAs").
ABAs assist Board members in setting and implementing Board initiatives. They will have unique opportunities to contribute to the direction and future of the CIS Alumni body, as well as experience the work of the Alumni Board, via working with the Alumni Office and the Board on a wide range of general alumni-related matters and events, with more segments of our alumni population, and also the general and wider community, both within CIS (e.g. Governors, the Head of School, staff, CISPTA, and/or student representatives) and outside of it.
We currently have almost 20 ABAs, each working on an entirely voluntary basis within at least one Committee of the Board. They not only help to organise in-person and/or virtual events, but also consult/lead/spearhead initiatives.
If you are interested in working with the Board as an ABA, please click here to access the Job Description and email cisalumniboard@cis.edu.hk and alumni@cis.edu.hk.