By Lily Cheng '97
We are living in unprecedented times with COVID-19 paralyzing societies around the world and causing disruptions from school to work. In Hong Kong, children have been out of school for almost two months and there is no clear end in sight.
During this time of stress for many families, CIS Alumni are privileged to digitally host Anne Gardon, the Head of Primary at Chinese International School, to share with us her insights and experiences around wellbeing in a virtual learning environment.
Below are the 8 practical tips we took away from our discussion for alumni who couldn't join us live. For those who want to experience the full session, please click on the link below for a recorded video.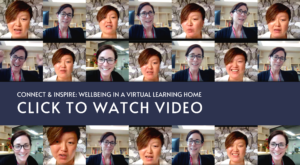 1. Consider using time-interval techniques (5-15 min chunks) to help with concentration challenges along with visual aids for work/time management
Many parents may be used to seeing their children play legos for hours on end so may have the same level of expectations for schoolwork. However, it is important to recognize that those long sessions are for activities that they chose to do and that is unrealistic to expect the same for school work.
Focused quality learning in 5-15 minute chunks can be very effective. There is a time-management concept of breaking work into intervals called the Pomodoro Approach. Families that are struggling with getting their child to concentrate can try some of these techniques.
In addition, simple visual aids such as checklists with some sense of prioritization can help children to manage their own work. Learning how to do this is a valuable life skill that they now have the opportunity to put into practice.
2. Give as much choice and control as possible. Give children the opportunity to make mistakes
One of Anne's favourite parenting books is "Parenting with Love and Logic" by Foster Cline. The book advocates a parenting concept that aims to give children as much choice and control as possible. To the extent that it doesn't cause permanent harm, allow children to make mistakes and learn from them. This means that as parents, we need to learn to let go of the little things. For example, if they want to choose what they want to wear, let them be.
There are of course times when it is important for safety or other reasons to adhere to the parent's choice, but if we have "invested" in giving our children many choices all through the day already, we would've hopefully banked some credits that we can draw on during times when strict compliance is required.
For example, for 5-6 years olds, ask your child what kind of assistance they need from you to complete their work and if they want to do it themselves, let them be. And if they make a mess of it, you can revisit and explore with them alternative ways to approach the task.
3. Setting expectations in advance for screen-time reduction when school resumes
With virtual learning, many parents have had to give their children much more access to screens than they would like. Many are concerned about whether we are establishing habits that will become hard to break when school resumes. While there are no magic answers and it may turn out to be a painful transition for many families, there are things you can do now to pave the way in advance. Contextualize why the screens are necessary right now. Remind your children that this is a special phase and set expectations that screens will disappear once campus reopens. This way, children will not be caught by surprise when access becomes restricted once more which in turn improves their ability to adjust back into normal school life.
4. When tensions and emotions run high, hit the pause button
With parents and caregivers administering teaching and school work, it is inevitable that there will be conflict in the home creating more tensions than usual. Especially in these unprecedented times, many parents may already be under tremendous pressure from work, pressure on personal finances and health concerns. Children not cooperating under these circumstances may be the straw that breaks the camel's back. If you feel yourself losing control of your emotions, often the best thing to do is to pause, walk away and come back to discuss later. Saying: "I'm running out of patience, let's take a break and then we will come back to talk about this." is an authentic expression and gives you the opportunity to revisit when you are in a state to make more rational decisions. When children make mistakes, we want them to think about the mistake. However, if we lose our cool, children often fixate on the parent's emotional state rather than the mistake – which would be counterproductive.
5. Consider using incentives when appropriate
Incentives can be a very effective tool. While we don't want to set an expectation that all difficult tasks have to be incentivized, there are moments in time when it is appropriate and we can be thoughtful about relaxing rules. It may be helpful to have an authentic conversation with your children about how everyone has things that they don't like to do and understand what incentives you can provide to help them overcome that challenge, whether it be food, toys, money or otherwise. Families can think about what types of incentives are aligned with their values and when using incentives is appropriate.
6. This is a unique opportunity for children to learn life skills
During these difficult and stressful times, it is easy to focus on what is lost. What are the kids not learning, what are the kids missing out on? While the current situation is indisputably non-ideal, it may be helpful to also think about what we might be able to gain from this experience. This might be an opportunity for children to apply soft skills, apply a different approach to learning, develop greater self-awareness, take responsibility for themselves, learn how to prioritize not just academics but also their own wellness and put time management skills into practice. Many of these learnings cannot be measured and quantified but may be amazing and will serve our children for many years to come.
7. Focus on fundamental skills and knowledge outcomes of each unit of instruction
For those parents who have the luxury of time to fully embrace this new found job as a reception/primary school teacher that has been thrust upon them, this might be a useful tip. Many parents may wonder why it is such a monumental effort for schools and teachers to deliver virtual learning. One of the reasons is because schools like CIS are not just putting what they would've taught in class online. Teachers are rethinking each unit of instruction, distilling what core skills they are trying to develop in the child and redesigning the best way of achieving that goal through a digital medium. As parents administering this learning, we can also take a page out of this book. If we understand that a particular unit of instruction aims to teach a list of vocabulary, perhaps instead of having the children sit down at a desk in front of the list of words which may, over time, be the source of stress and friction, we can just weave those words into our conversations and every day lives to assist in the learning.
8. Don't hesitate to take a breather, set realistic expectations and don't put too much pressure on yourself
In the end CIS, and hopefully other schools that alumni children are attending, will understand that under these extenuating circumstances there is no way to teach or expect exactly the same outcomes of a regular school year. Every family has different circumstances and every child will respond to virtual learning differently. When campus re-opens, schools will be expecting variations in what each child has learned during this time and will be prepared to conduct careful assessments and meet the children where they are at. In addition to calibrating the curriculum for the class, methods such as small group support can be deployed in response to those differences.
We hope these tips will help all of us parents with young kids to survive the next few months!