Next in a list of rising athletic prospects in Hong Kong, Audrey has qualified for the 2022 Winter Olympics. She talks about her goals for the upcoming games, as well as some insight into her everyday life as an Olympic athlete.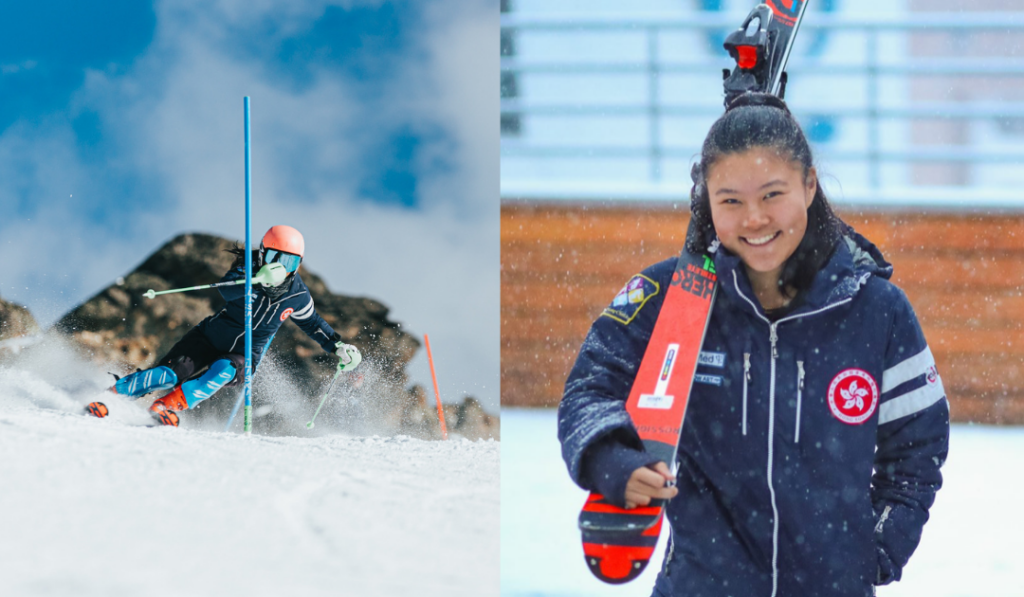 Name: Audrey King
Graduating Year: 2021
Years at CIS: 9
Current city of residence: Hong Kong
Could you tell us a bit about yourself?
Hi, everyone! My name is Audrey King and I graduated from CIS in 2021. I am currently on a gap year to focus on skiing before I resume my studies at Harvard in the fall.
How did you get into the sport of skiing?
I first started skiing when I was three years old in Japan. My dad had always enjoyed skiing, so he decided to take us on holiday ski trips starting from a pretty young age. Growing up, I had always just skied for fun with my brother, exploring groomers, moguls, and powder before we called it a day. I did not officially start ski racing until I turned 14 and only began to seriously train when I was 15. I had always enjoyed studying the technical aspect of skiing so ski racing felt like the natural next step for me to follow.
Where has been the most memorable place that you have skied in?
I would have to say Argentina. I had travelled there to participate in a series of races in August. The weather had been amazing, and I could see the sea while I stood at the top of the race slope, so that was pretty incredible. Everything from the views to the food and the company made the entire trip really memorable.
Can you give us some insight into what a typical day of training looks like for you?
My training is generally split into two blocks – one for when we are on snow, and the other for when we are off. When we are on snow (particularly in-season), a lot of our schedule focuses on recovery so that our bodies can train and race in gates every day. We would wake up at around six in the morning, head to the mountain, and train either slalom or giant slalom until noon. We would then get lunch, go through film from the day and go on a short run/bike and stretch in the afternoon for recovery. During the off-season/time when we are not on snow, the focus is on building strength, so our day would typically consist of two workout sessions that would either be spent on the track or in the gym in the morning and hikes/rollerblading in the afternoon.
Do you have any pre-race rituals or superstitions that help you get focused and in the zone?
I am a big believer in visualising, so you can normally find me at the start closing my eyes and visualising the course before I have to ski it. I also typically stay pretty quiet before a race to fully focus on the task at hand.
Qualifying for the 2022 Winter Olympics is an amazing achievement. What was your reaction to finding out you had qualified?
I remember staring at the results in Montenegro, nervously biting my nails as I watched the final racer ski down. When she had reached the finish line, and I knew my qualification was official, I immediately collapsed onto the floor and started crying before I rushed over to hug my coach. It had been a year of a lot of ups and downs, so finally achieving the goal that I had set out for myself felt really special. I was also lucky to be able to celebrate my achievement with the other athletes and teammates that had been travelling with me.
What do you hope to have achieved at the games and by the end of your skiing career?
I think my goals are always changing the more I progress in the sport. My main goal going into the Olympics is to implement the training runs that I have been putting down into a race setting and to leave the competition knowing that I have put my very best foot forward. I have always looked at my entire experience in the ski racing world as a race against myself and that mentality will not change going into the games in Beijing. As for the rest of my skiing career, I would like to continue to progress and hopefully get my giant slalom points down to the level of my slalom ones.
Other than skiing, what other sports do you enjoy?
Growing up, I had been a gymnast, so it would have to be that. However, I do enjoy watching baseball, surfing, freestyle skiing, snowboarding and ice dancing in my free time.
Favourite memory from CIS?
CIS provided me with an amazing support system of teachers, friends and staff that allowed me to pursue my dreams whilst still getting an amazing education. I would say that my favourite memory from CIS is really just an accumulation of a lot of small moments. I genuinely loved going to school every day to spend time with my friends and classmates. Having had the opportunity to grow up with the 86 people that I graduated with made for a really special primary and secondary experience that I miss every day.
If you could take one CIS teacher to go on a ski trip with, who would it be and why?
I think it would have to be Chen BingMei 老師 – she made every Chinese class I had in year 10 so much fun despite me not being the best at Chinese. She really cared for everyone in her class, not just as students but as human beings, and I think it would be really fun to take her on a ski trip with me.