Through her large social media presence, Louisa uses poetry and art to detail her experiences with depression, anxiety and PTSD.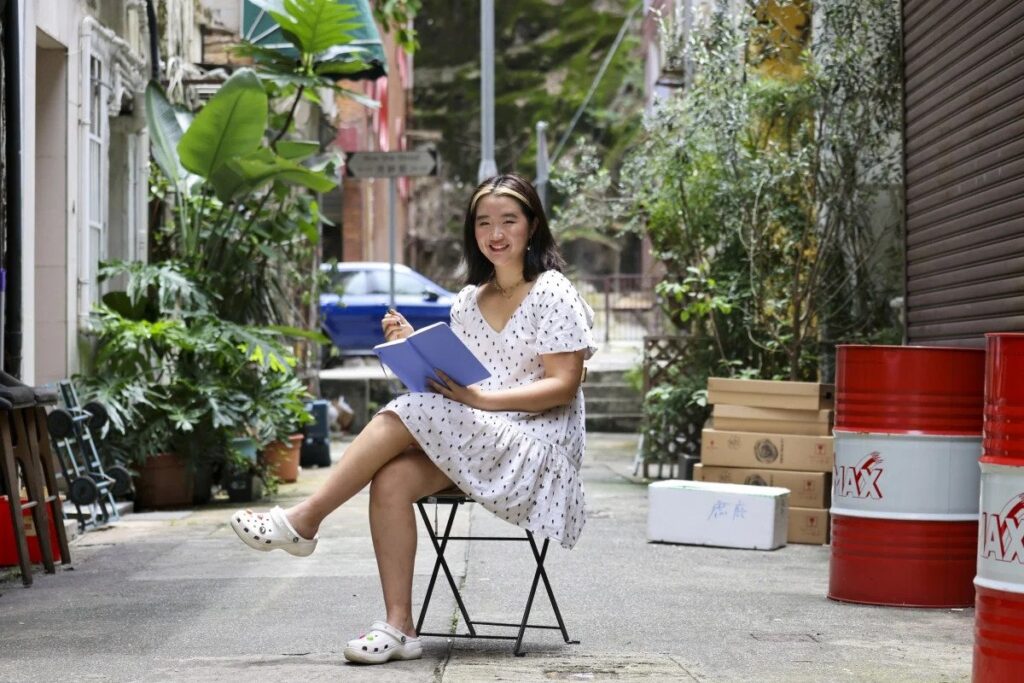 Name: Louisa Choi
Graduating Year: 2021
Current country of residence: New York, USA
Can you tell us a bit about yourself?
My name is Louisa Choi, I was born and raised in Hong Kong. I attended CIS from Year 7 through Year 13. I am Korean American, and have two older sisters. I am passionate about psychology and plan to major in it at the School of General Studies at Columbia University, where I'm currently at. I love Taylor Swift and spending time outdoors!
What was the catalyst for you seeking professional help for your mental health?
When I first arrived at university after graduating high school, I was hit with a massive reality check and realised that I wasn't ready for college yet. I felt lost in my identity and realised that my mental health was at a point in which I could not just keep keeping on without speaking up. I remember being in my dorm room, calling my mum crying, and worried that this was the end of my potential, and I would never be able to achieve my dreams of going to college and obtaining my degree. But I also knew that I couldn't suffer through college because it would have major consequences on the rest of my life. So I decided to take action.
Who, or what, inspired you to start using poetry and art as a means of expressing your thoughts and feelings?
Since a young age I've been a huge fan of Taylor Swift. I loved how vulnerable she was in her writing, and it was really eye opening for me. So, at the age of 11 I was inspired by her to start writing my own songs. I later found that I didn't really enjoy the musical part of it, but I loved the writing. So, eventually I evolved from song writing to poetry. I started creating art at a young age, mostly for fun. In Year 10, while I was in Hangzhou, I decided to write my first poetry book for my Beyond project. Instead of just having plain pages, I handmade artwork for each page to go along with my poems as I thought it helped to better explain my poetry. After publishing my first book, I continued to make art with my poetry. Around the start of 2020 I first started publishing my work online through Instagram, and haven't looked back since!
Other than poetry and art, what other activities act as a good outlet for you? What advice would you give to people who may be struggling to find an outlet for themselves?
Poetry and art have been great outlets, as well as therapy. Going to treatment and working with professionals has been the most important part of my mental health journey. Besides that, I enjoy spending time outside and quality time with family and friends. The biggest piece of advice for finding an outlet is to try and connect with your inner child, and remember what activities you enjoyed as a child. For some that might be playing with legos, painting, Barbie dolls, sports etc.. I think that your passions as a child are some of the most pure moments we hold, and so to connect with that really helps to unlock a deep and meaningful part of yourself.
You have amassed a large following on social media of people who relate to you deeply. An overwhelming majority of the comments on your posts are of people saying how much your work resonates with them. Do you ever feel a sense of responsibility, or perhaps pressure, when it comes to posting certain things?
I get asked this a lot, and I think part of why I've been able to do what I do is because I don't take on that responsibility or pressure. Yes, at times I feel the pressure to make content that is relatable or entertaining, but at the end of the day I do this for me. I'd be writing and creating art even if I wasn't sharing it. Sharing it is just a great benefit and add on I get to do! So I just focus on being true to myself. Even if just one person compared to one hundred says they understand me, it doesn't make a huge difference to me. I believe the best art comes from the artist's most personal and true intentions, so I try to stick to that.
What words or advice or encouragement would you give to others suffering from mental health issues?
Over the years I've struggled with this question, because it's so hard to take such a complex topic such as mental health and give broad advice. These days, the first thing I say is if you're able to, reach out for professional help. Whether that be therapy, psychiatry, etc., it truly helped me so much. However, make sure you do your research because the world of mental health care is very complicated. I know not everyone is comfortable with reaching out for professional help, or able to access it for various reasons. In that case, I would suggest family and friends. Never feel ashamed of reaching out to loved ones, because if they truly love you they will never feel burdened by your emotions. If this is also not an option for you, I recommend trying to explore yourself deeply whether that be through art, sports or writing, try exploring a way that you feel most comfortable with yourself.
How much progress do you feel has been made when it comes to normalising talking about mental health issues and destigmatising mental health treatments?
To be totally honest with you, not a lot. While I do think the conversation is opening up, which is amazing, I think we still have a far way to go. Most people aren't even sure what "mental health treatment" is, not even I was until I went to it myself. I think we need to make the conversation both an educational and emotional experience for individuals, as mental health has to do with some amount of fact and knowledge, and other parts that are subjective and emotional.
Quickfire round – give us the first answer you think of
Song that means the most to you: Camden – Gracie Abrams
Favourite pastime: Walking and listening to music!
Next city you want to visit: Paris
iOS or Android: iOS
Weirdest food you've ever eaten: hmmm.. maybe frog legs?
Favourite local Hong Kong snack: Egg tarts!
You're currently based in New York. How are you finding life there compared to Hong Kong?
While it reminds me of home, it will never replace it for me. I love that I'm able to be around so many different people and cultures. I also love that there's public transport here, especially the subway. However, I miss Hong Kong's beaches and hiking trails, as well as how small Hong Kong is.
Your favourite memory from CIS is…
For sure my time in Hangzhou. I will treasure that year forever, and the friends and memories I made during it.