Nicolia is the co-founder and CEO of Kiri, a company that makes reusable leakproof period underwear and female intimate apparel. Her company aims to empower women and encourage candid conversations surrounding women's health, while placing environmental sustainability and conscious consumption at the forefront of everything they do.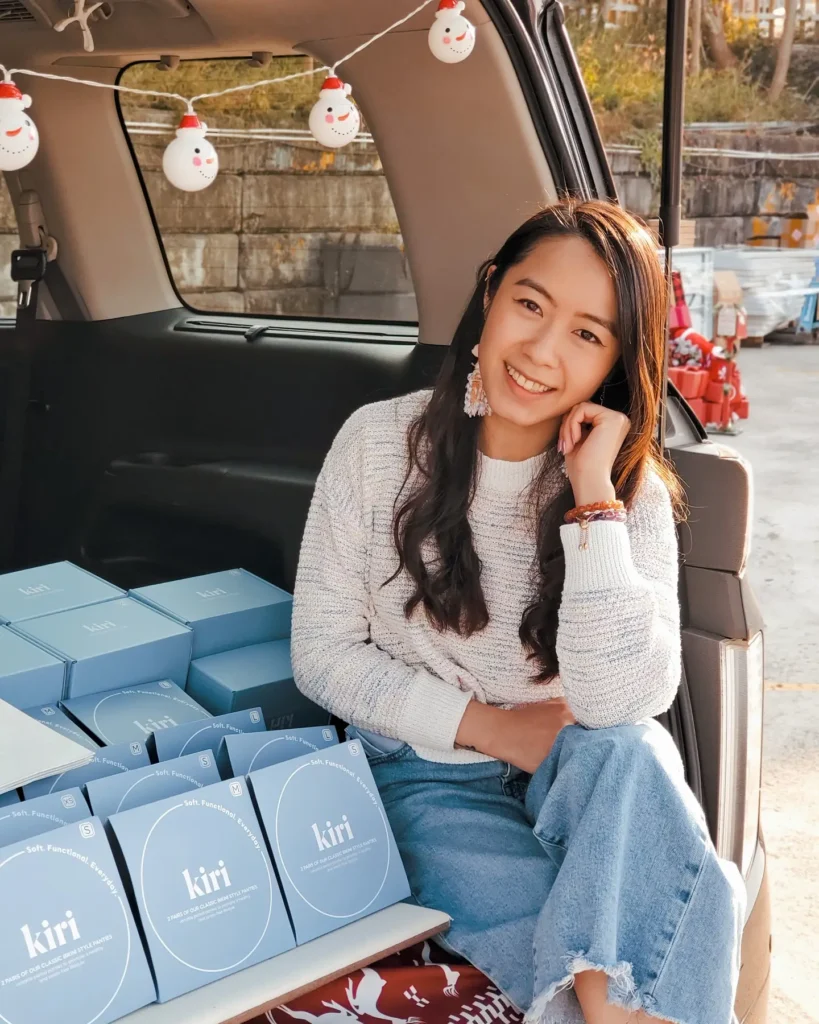 Name: Nicolia Ng
Graduating Year: 2013
Current country of residence: Hong Kong
Can you tell us a bit about yourself?
I was born in the United States but raised in Hong Kong. After graduating from CIS, I went on to pursue a degree in Hospitality Management at École hôtelière de Lausanne in Switzerland.
I have had a host of experience in a variety of roles such as sales, marketing and branding from the hotel and retail sector including companies such as Four Seasons Hong Kong and Rosewood Hotel Group, before eventually pivoting to an account management role at Foodpanda and recently, Floship. On top of my full time job, I am also a co-founder of Kiri, where I oversee the company's marketing initiatives, brand strategies and customer experience.
How did the idea for Kiri come about?
I have always been interested in sustainable period care and have tried a few brands overseas. Although Hong Kong has begun to offer more eco-friendly products for feminine hygiene, I still found it difficult to get my hands on reusable period underwear that offered good fit and high functionality. So when my fiancé, who had worked in the manufacturing industry, was able to develop the absorbent pads for reusable period underwear, we immediately jumped on the idea of building our own business. We wanted to design a product that was kinder to the environment, while being able to provide women with extra protection from leaks and accidents during their periods.
Did it take a long time to come up with a product that you felt confident enough to go to market with? Can you give us some insight into your product development process?
The product development process took around 11 months before we were comfortable bringing it to market. Since we were launching in the Hong Kong market, we needed a pad that had a higher absorbency rate than those currently in the US/UK market. Our aim was providing our customers with a worry-free experience while ensuring it was comfortable and free of harmful chemicals such as PFAS. Since this process took place during the pandemic, we were unfortunately unable to visit the factory in person, which delayed our initial timeline.
Besides product development and in-house testing, we tested our products' antibacterial properties and ensured they were free of PFAS chemicals. We also hired third-party labs to verify that our products adhere to industry standards.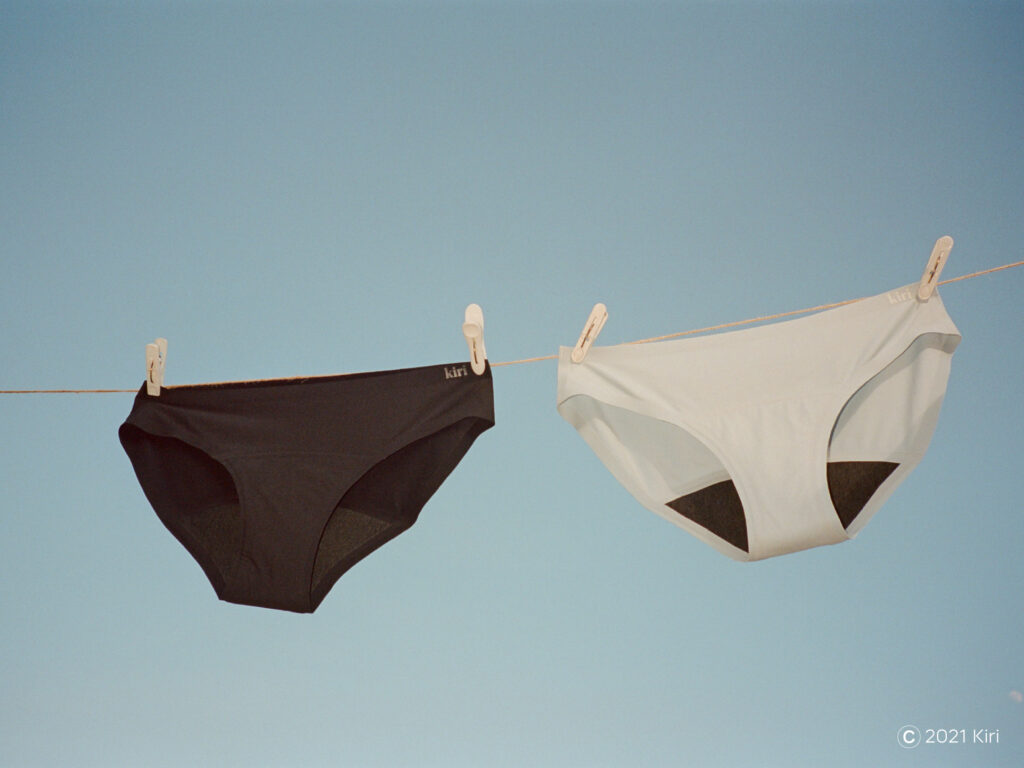 What has been the most challenging aspect of being an entrepreneur?
Spoiler alert: countless weekends and times spent with friends or family may be sacrificed!
It is never easy running your own company, especially if you are also trying to balance a full time job at the same time. I would say self-discipline is crucial to building your own business because nobody else will hold you accountable. However, I do make sure to give myself some time off once in a while to avoid getting burned out.
Sustainability and responsible consumption are a big part of Kiri's ethos. What are you guys doing to ensure that these principles are put into practice throughout your operations?
A majority of Hong Kong people are not aware that period panties exist. Through popups, we're able to educate the public that there are more sustainable alternatives than single-use tampons and pads available in the market. We pride on our product's durability as we are able to play a part in contributing to slow fashion.
Kiri is involved in charitable donations around the world as we want to ensure that everyone has access to feminine hygiene products. With the support of Kerry Properties and Christina Noble Children's Foundation, we recently donated 300 sets of panties to vulnerable children in Mongolia and Vietnam.
Furthermore, we strive to minimise waste in our packaging — not only are all Kiri products packed in reusable cloth bags when they are purchased, each panty is also rolled and tied up using elastics that can be repurposed as hair ties. In situations where paper packaging is required, only FSC-certified ones are used; this means the paper came from sustainably managed forests that promote biological diversity while ensuring economic viability.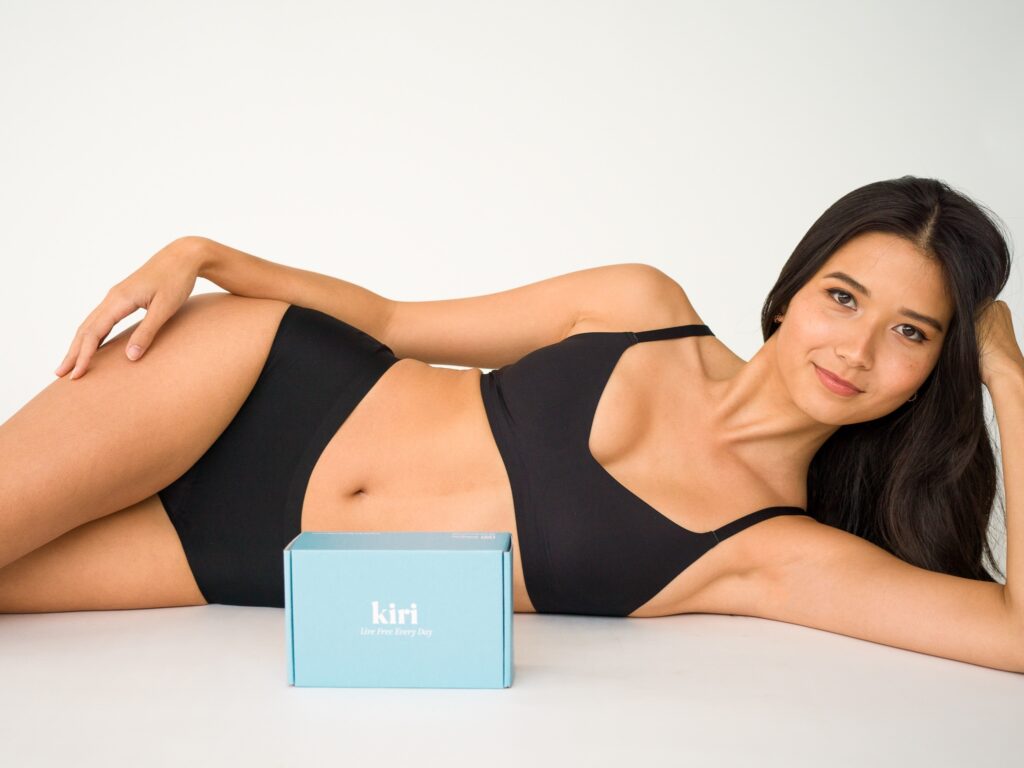 Do you have any plans to expand the range to include more products, and any you can give us a sneak peek into?
Yes, we will be introducing new colours in the second half of 2023! While Kiri's period underwear collection is our hero product line, our ultimate goal is to provide daily comfort to our female users through various offerings, which means we are constantly on the lookout for opportunities in the female personal care space! At the same time, we have also started exploring some potential projects for 2024 in both the maternity and elderly care sector.
It's great to see that you're trying to inspire more honest and productive conversations surrounding women's health. Who, or what, are your biggest inspirations?
All the entrepreneurs that I've spoken to or worked with in my entrepreneurial journey! It's incredibly inspiring to see how, despite the many obstacles thrown in their path, they continue to remain optimistic and passionate about what they do. One of them once told me: "Challenges are opportunities in disguise, pivot and you'll eventually find a way" and I'm totally here for that mindset!
Quickfire round – give us the first answer you think of
A word you have a hard time pronouncing: Worcestershire (as in the sauce)
What item is worth spending more money on? Sustainable and highly functional period underwear (not naming any brands)
Your go-to karaoke song: Any Taylor Swift song
Your worst subject in school: Probably Maths
What is an unpopular opinion you hold (and will never back down from)? Durians are delicious!
What is your favourite memory from CIS?
Taking naps during lunch or recess on the lower floor of the old library (for some reason, there were large cushions between the shelves). I swear those glorious power naps work better than coffee!