Samantha is an Interior Designer who started her own design studio called Studiossoo shortly after becoming a mother. Samantha attended Chinese International School from reception to Y13 and then went to the School of the Art Institute of Chicago to study Interior Architecture.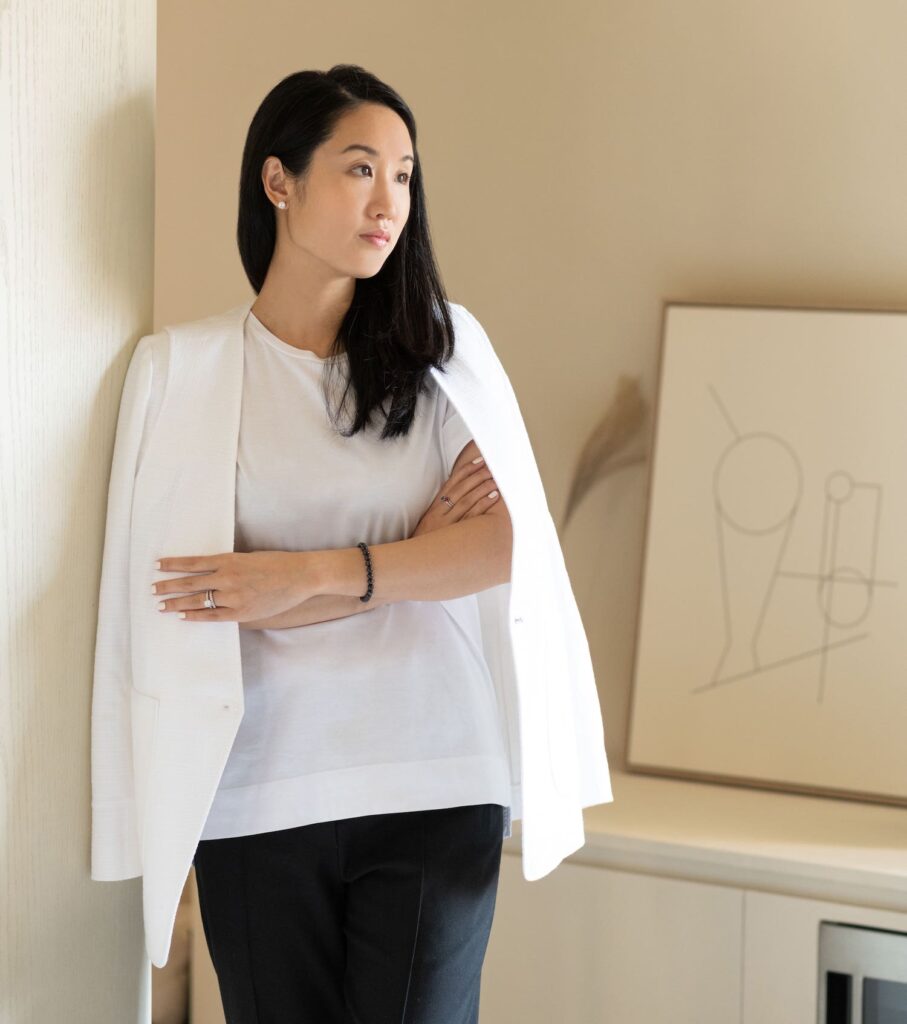 Name: Samantha Soo (Ng)
Graduating Year: 2004
Years at CIS: 13 years since Reception
College & Degree: The School of the Art Institute of Chicago 2008 (Bachelor of Interior Architecture), Harrington College of Design 2010 (Masters of Interior Design)
Current city of residence: Hong Kong
Places lived before: Chicago
Could you tell us a little about yourself?
I was born and raised in Hong Kong. I attended Chinese International School from reception to Y13. I still have memories of our reception and primary class. Even now, I have known most of my best friends since childhood, many of whom are from CIS.
I first started to take an interest in interior design when I was in high school, having interned at a couple of architectural and design firms in Hong Kong during project week. After my one week of experience at the design firms, I knew that it was what I was passionate about. I then applied to interior architecture programs in the United States, where I was able to graduate with a Bachelor of Interior Architecture and a Master's of Interior Design. I have now been back in Hong Kong and been in the interior design industry for more than 10 years. In the past 3 years of my life, I have spent time as a working mother. I was blessed with one boy and one girl in the span of 3 years. After my first child was born, I decided to start up on a new venture of my own and started my own design studio. Being able to do something that I am passionate about keeps me moving.
How did the birth of your first child motivate you to venture out on your own?
As a mother of two young children, I guess I am living the modern female life that strives to balance between my career and my family. After working with notable design practices in Hong Kong, it was a natural step for me to open my own studio after my first child was born, so that I could devote my time to two of my passions in life – spatial storytelling and nurturing the next generation.
Can you tell us about one of the projects that you've worked on recently?
One of the recent projects we completed was Busy Bee nail salon at Lee Gardens Three in Hong Kong.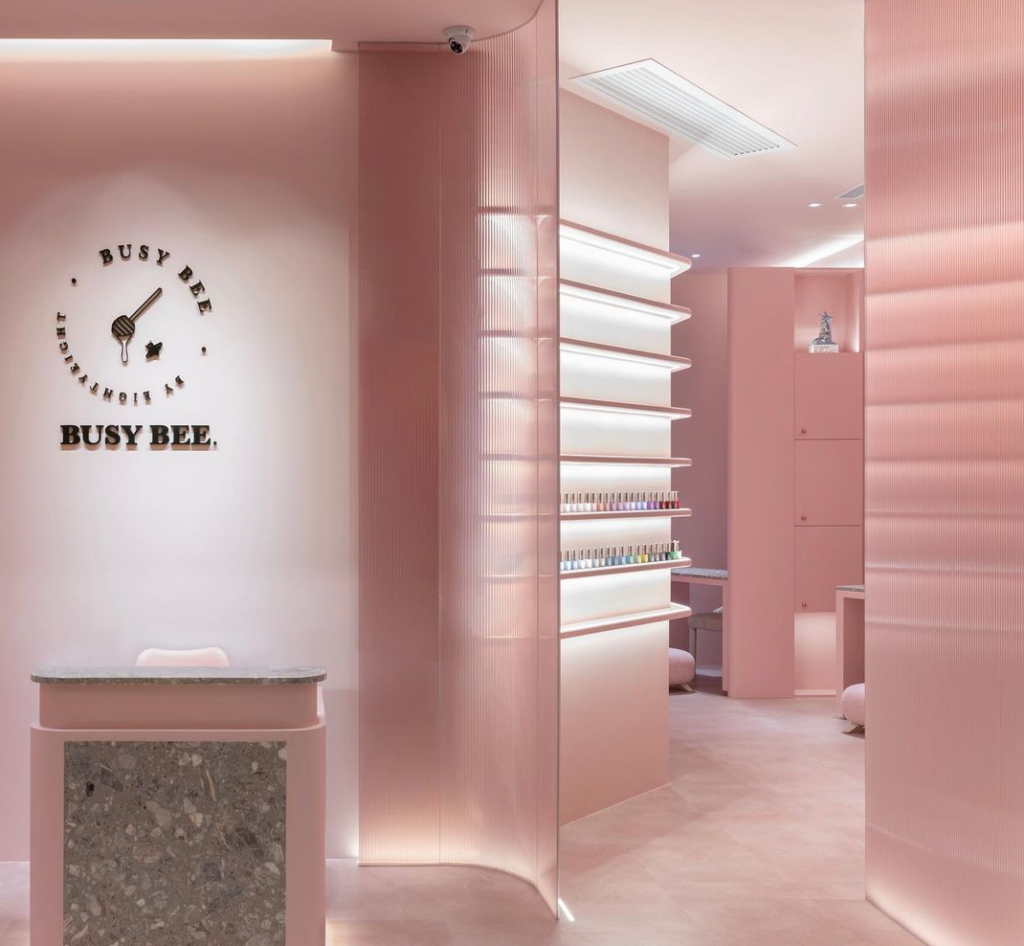 When the client approached us to design a nail salon space for their younger audience, the one and only request was she wanted everything in pink – an immersive ultimate fantasy space in Lee Gardens, amidst the style hub of this metropolitan city of Hong Kong.
Wandering around the shopping mall, the intriguing tone-on-tone storefront of Busy Bee lures people to stop in for a peek. This popular instagrammable spot gains the salon a name for its extensive muted pink colour approach to embrace gentle feminine temperament. Multiple hues of pink are applied on different textures and materials across the space, while illumination from various angles adding tasteful depths of shades and shadows.
What are some of your favourite design practices that everyone can do to spruce up their homes?
Interior Design would be hard to execute yourself as it involves construction and detailing. However, Interior Decoration and styling, which is also one of the services we provide, can easily be implemented at home by anyone. Organization has always been one of my strongest pursuits, being extremely organized and tidy to make the presentation aesthetically pleasing is very satisfying. Just like Interior Design, the rule of thumb is 'alignment' everything must be aligned to look symmetrical and complete.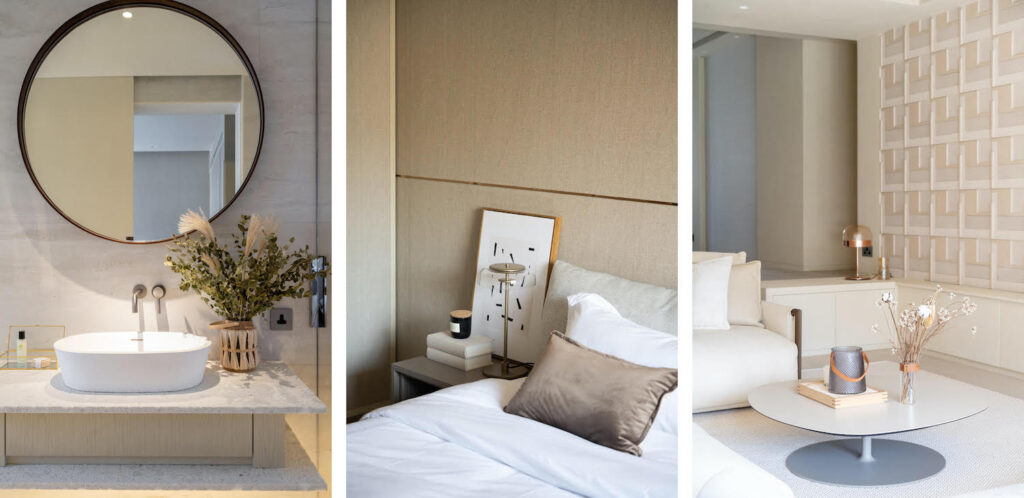 If any of you are interested, Netflix has recently launched two new series: "The Home Edit" is about home organisation and the "Dream Home Makeover" is about interior design and styling.
Can you describe your personal design style? Does it include elements from both Eastern and Western influences?
Our studio caters to our clients, so we try to listen to their heart, and focus on unpeeling the fundamental needs that are important to the end-users. Instead of stamping the projects with a house style, we approach each project individually. Our design is rooted in each project's brand, local culture, and the client's project vision. Through embracing the connections between such key elements, each project adopts a truly authentic design response that is contextual with meanings. As a result, the studio's works often enable emotional resonance that speaks to users' hearts.
Having lived in Chicago for nearly 10 years, our work is influenced by the different culture between East and West. This experience is reflected in our aesthetic approach, particularly in the exploration of style, light, materials and texture, where our expertise lies.
What was your most memorable CIS moment or a significant moment that stays with you?
I attended CIS for 13 years, most of my education journey has been quite memorable. I guess when people ask me what I remember about CIS, I would have to say the 'assembly gatherings'. We all gathered in the auditorium to celebrate a festive moment like a big family. I remember the atmosphere to be very welcoming and cheerful as we always started off with the CIS school song, "We belong to the CIS, the Chinese International School."
How did your CIS experience contribute to who you are today?
I am very thankful for how CIS shaped and moulded me into the person I am today, guided and led me to my interests. I first started to take an interest in interior design when I was at CIS, having interned in a couple of architectural and design firms in Hong Kong during CIS project week. Along with the influence of my father, I developed a profound interest of space and materiality early in my life.
What's one thing you could not live without? My Pen. Every time I see or feel an inspiration, I have to jot it down.
What do you like to do in your free time? I enjoy exercising, it has become part of my daily routine. It makes me feel less tired, gives me energy and helps relieve stress. Other than working out, I try to spend as much time with my kids as possible when I am not working.
Samantha is the sister of Mel Ng '08 whose profile you can read here.