Alice Au has been in the executive search industry for over 25 years. She's currently a board member of leading global search firm, Spencer Stuart heading up the global financial services practice and also the Asia Pacific board practice for the firm. Prior to her executive search career, she worked in the US, Hong Kong and China, from being a semiconductor engineer to a consultant at McKinsey to leadership search and consulting in Asia. She shares her personal experience in career transitions as well as her professional experience in the search industry. Alice is a parent to two CIS alumni, Alexander Wong '07 and Frances Wong '10.
Her personal journey:
My early career and career transitions were about collecting experiences and building on my strengths such as being analytical.
I think my biggest career move was my serendipitous decision to join the executive search business back when the industry was still in its infancy. I was moving from known to unknown and I think some of the most interesting opportunities reveal themselves when you are willing to discover them.
I am very much aligned with my firm's purpose statement which is to help companies and individuals discover and develop leadership for a better future. Good leadership is everything. I think I believed in this from the very beginning – from my time in strategy at McKinsey to my role now – scrutinize a company's needs and help bring solutions to them.
In short: try different things, hone your skills, and don't be afraid to grasp opportunities which you think align with your skillset. Believe in the purpose and mission of your work.
What she wished she knew at the start of her career:
People underestimate the art of working with others – how to organize, engage, energize and inspire others.
Make connections and reach out – see the world broadly – fill your life with interesting experiences so you become an interesting person. Avoid pigeon-holing yourself too early or too fast.
Advice on considering a change of career:
When considering a change of career, what is important is that you have done something significant in each role and are able to establish a track record. Also, you are able to explain the reasons for each change, and you are able to demonstrate that you have exercised good judgment.
If things stagnate and you no longer enjoy your work or feel you are contributing to the organization, you should leave rather than stay and cause further damage to yourself and the organization.
Early on in your career, a move every three to four years is acceptable. Ideally, you have accumulated good experience.
If someone has for example been at a big firm for a long time, say 10 years then moved a lot in the following few years, that would perhaps point to a person not being able to survive outside of a certain type of organization.
Often organizations are not interested in recruiting anyone who appears to be "running away from something" rather they look for someone who wants to push boundaries, to be innovative and bold.
When explaining a move to a prospective employer in an interview, try to present the reason for the move in a positive light rather than a negative one.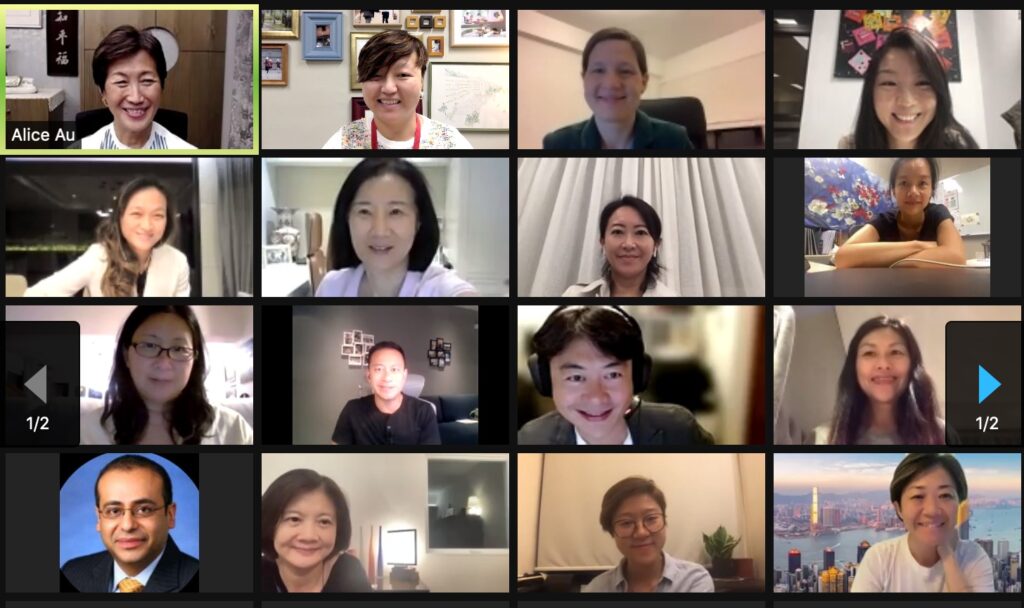 Some rules of thumb for career transitions:
When considering a new career, reflect on whether you think you would be good at it, and if you have the requisite skills to succeed. Be honest with yourself.
Careers are marathons. There are different strategies for different stages with different knowledge needed and skillsets. No matter your age, in each new stage, you should be learning and growing.
In order to succeed, it is important to find a purpose in the organization and in the role. Otherwise, why are you even there?
Advice for mothers who would like to return to the workplace:
Many larger companies are interested in recruiting women returning to the workplace and have programs in place for this particular purpose.
Before starting the search, try to get reconnected in the industry. Find out what is happening so you don't appear out of touch.
It is also important to manage your own expectations – that times have changed, former peers may have moved on and you may have to dig in and invest more time than you want, to get back in.
For those who are unable to put in the time again, consulting is a popular choice. Do not expect fancy titles, but with the ability to work remotely, interesting work can be found and it's a great way to ease back into the workforce.
Advice on the top skills a young person should be equipped with to be relevant in the future:
With all the change happening in the world right now, I think there are a few really important "practices" people should engage themselves in to remain relevant in today's world.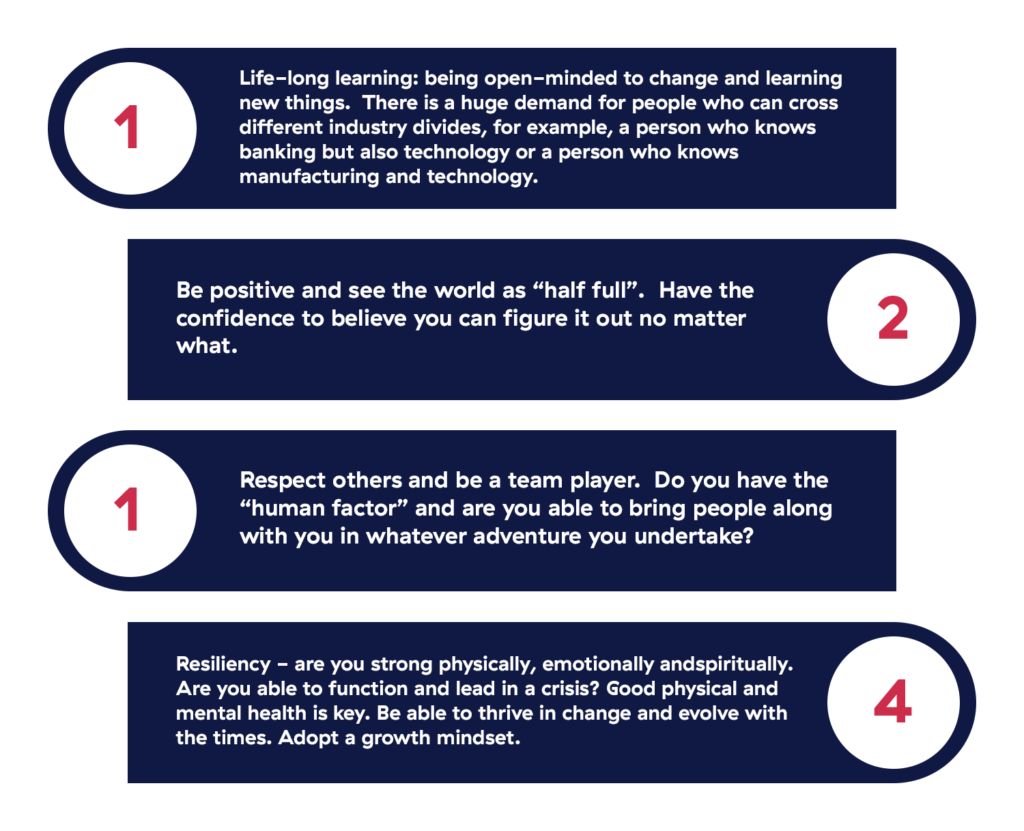 Advice on gaining the attention of a headhunter:
It's not a big secret – be excellent at whatever you do. Be reliable, do good work, and be a team player.
Build a good reputation – headhunters will call people in your industry to ask for recommendations.
Even if not actively looking for a job, it's helpful to stay in touch with recruitment professionals as it's a good way of knowing what is happening in the market and getting a macro view so that you can continue to align your own trajectory to something that's in demand.
Thoughts on LinkedIn and other social media platforms:
LinkedIn is a great tool for initial research and due diligence on a candidate.
I do recommend you use LinkedIn to build an online professional profile, including sharing your thoughts on areas you are passionate about or interesting articles you have read. Build your professional persona as fully as possible.
Before a recruiter presents a candidate to a company, they normally do two types of due diligence: (i) online due diligence – all types of social media platforms – searching for "red flags"; and (ii) informal reference checking with people in the same industry.
Belonging to affinity groups is useful. People assume common experiences and trusted relationships within affinity groups, for example, a group such as CIS Alumni.
Advice on career/life coaches:
Coaches are useful! Find the right coach for you. There are so many out there. Interview a few and find someone you genuinely connect with. Preferably someone with good relevant experience in a similar industry.